I am a student at graduate from the University of York.
You can find me on GitHub, Greasy Fork or my Chinese blog.
This site is built with Hexo Bludit and DevTheme with a bit (quite a bit!) of twist to make it ssuitable for me.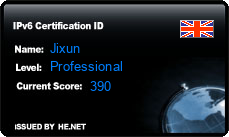 Job Status?
Currently looking for got a job. Check my LinkedIn :p
Skill Set
Some of the programming languages I've used, along with some framework/library I've used in projects.
JavaScript (ES6+, Node.JS, TypeScript)

React (more than 9 months working on commercial projects)
OOP (made my own implementation of class before it was a standard)
Slight touch on Angular/Vue
jQuery (when jQuery was version 2)
Personal projects using Buble/Rollup to bundle web-app.
Use of Lodash, Underscore (... and other libraries)
osb Emulator (Badly implemented and not maintained any more)

Some CSS3 skills; able to implement a website with given design.
Python 3
Java
PHP (The best language, anyone?)

Comment system built with Symfony (installed on jixun.moe, close source).
Security audit (CSRF

[email protected]

)
Extend an existing project h5ai for improved keyboard control on multimedia view.
Worked with WordPress Plugins & Themes (before 2017?)

C/C++ (few months on commercial projects using boost_asio)

UniCal - A calendar app for embedded device (i.e. Raspberry PI with a display connected via SPI) using CMake, SDL2 and libcurl, along with a custom written blazing fast ics parser.
My own fork of 3DS Controller which uses 3DS as a game controller for PC.

C#

ContraFontTool using bitmap to generate graphics font tiles.
ChromeUnlocker: Copies Google Chrome to a specified directory and remove restrictions set by IT administrator.
APIHook: Hooks API call (unmanaged) to a custom method.
Some of the personal projects are open source and available on GitHub. Some projects were not maintained anymore and may not meet the code standard.